Basic - How to Stand Up on Your SUP
With only a little instruction, most beginners are able to stand up and start paddling shortly after taking a SUP out for the very first time.
To get you started, here are some tips on: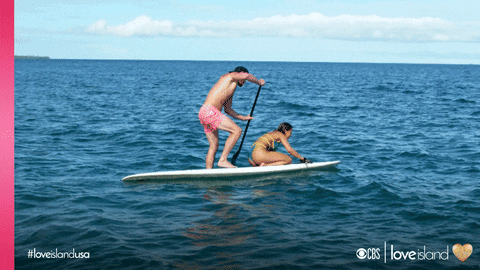 Standing up

Balance

Falling and getting back on
How to Stand Up on Your SUP


Practice this technique for standing up:
Stand alongside the board in about knee-deep water (just deep enough that the fins on the board don't hit the bottom).

Hold the board by the edges and work your way onto the board in a kneeling position, just behind the centre point of the board (you can quickly locate the centre of the board by finding the carry handle).

Keep your hands on the sides of the board to stabilize it and move one foot at a time to place your feet where your knees were.

Rather than standing up in one motion, start by raising your chest up while keeping your knees bent. Once your chest is vertical, extend your legs to stand up.
Once you're standing, there are a handful of things you can do to maintain your balance on the board:
Position your feet so they are parallel, about hip-width distance apart, and centred between the edges of the board.

Keep your toes pointed forward, knees slightly bent and your back straight.

Keep your head and shoulders steady and upright, and shift your weight by moving your hips.

Your gaze should be level at the horizon. Avoid staring at your feet.
ENJOY!